***Don't miss a HOT deal or coupon. Make sure you've "Liked" our Facebook Page, The Coupon Wizards, and check it often! Also make sure to join our NEWEST Facebook Groups, Couponing at Target, Publix, CVS & More and Red Hot Online Dealz!***
Magical Survey Opportunity- Pinecone Research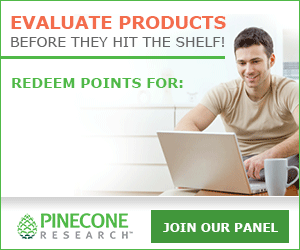 Pinecone Research is currently excepting new members. This is one of the best ones out there, so I've heard. I haven't tried this one yet, because I haven't been able to get in, but I fill out their screening panel every time they're looking. Some day I'll get it! If you're already a member, or if you get in this time, I'm interested in your thoughts on this one. Please leave any comments about how this survey site works for you, or has worked for you in the past, so we can all learn! Click on the banner above or head over here & try your luck!




Other Magical Deals Available:
FREE Disney Vacation Planner DVD!
Here's everything you can get free after coupons this week!
Digital Thermometer was $99, NOW just $18.99!
Clorox Wipes just $0.87 a container after Gift Card at Target!
FREE okicat Natural Cat Litter at Walmart!
Crest Toothpaste $2 MM at Walgreens!
Grab your 2 FREE samples of Emergen-C!
Meow Mix Brushing Bites $0.35. Starts 8/17 (8/18)!
Pound of Pens only $8.99 shipped!
Fisher-Price Little People Nativiy Set on sale at Amazon!
Well Beginnings ALA $4.75 per Jumbo Pack at Walgreens!
Helpful Information
We here at The Coupon Wizards strive to bring you only the best couponing deals, printable coupons, giveaways, freebies, instant win games and more! As always, if something doesn't work right, or seems off for some reason, with anything we bring you, make sure to let us know. We'll check it out and make corrections where necessary.
Like many offers & deals on our website, this is a sponsored post that contains affiliate links. We get a little something for bringing you the details. It's our way of making a bit of coin for all our hard work.